An elegant appetizer without the fuss
(Read article summary)
Baked ricotta and goat cheese with candied tomatoes has enticing flavors and is simple to make.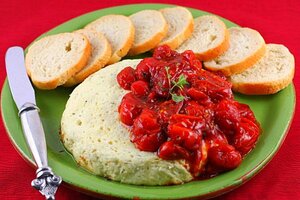 The Runaway Spoon
If you are like me, you open magazines and cookbooks and admire the beautiful photography. The casually laid tables bursting with delicious dishes, the beautiful vessels holding each delicacy, simplicity and refinement, but with the decadence of good food. And you think: I can do that. I can casually invite a few friends round, act like it's no big deal, then present an amazing tableau of culinary largesse, and the perfect beverage in fabulous Danish glasses. I can just throw together a selection of charcuterie and artisanal cheeses, add a few exotic fruits or homemade pickles, artfully fold it all on an old piece of reclaimed plywood and, boy, won't my friends be impressed.
But the reality is driving to delis all over town to find interesting cured meats and cheeses, realizing the most exotic fruit you can find is purple grapes, and running out of time to pickle your own vegetables. And the wood board you ask for at Christmas – just for this purpose – is really only big enough for a sliver of salami and a finger of cheese. Thankfully, for good measure, you made "simple" bruschetta from a two page instructional guide in a fancy magazine. But the toppings just got all over the floor and your $40 a bottle extra virgin, cold-pressed, first-of-the-season, mail order olive oil has just dribbled on and ruined your best friends new silk top.
That is why I love this dish. It's another recipe that has my favorite characteristic: easy to make while appearing complex. No, it is not slapping some cold cuts on a lumber off-cut – it does take a little work – but the results are impressive. Simple, but elegant. This is the kind of dish that makes it look like you really know what you are doing in the kitchen. Like you actually are the kind of person who could just throw together a magazine-spread worthy gathering at a moment's notice. And really, as long as people believe it, then it must be true….
---