Tilapia fish tacos
(Read article summary)
Simple fish tacos are even more delicious if you use sustainable fish like tilapia.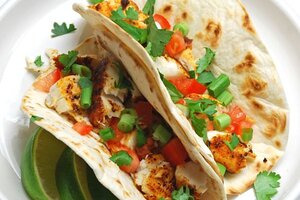 Blue Kitchen
I like fish. I like tacos. So why has the charm of fish tacos always eluded me? Maybe it's the fact that mayonnaise is used in so many recipes. I do use mayo on occasion (and appreciate its creamy tanginess every time I do), but putting it on fish tacos sounds like tuna salad in a tortilla to me. Some recipes even call for chopped cabbage – tuna salad and coleslaw in a tortilla.
Recently, though, two mayonnaise-free events had me reconsidering fish tacos. The first was in New York. After catching a performance of Rajiv Joseph's amazing play, Bengal Tiger at the Baghdad Zoo, we made a mad dash for the subway, practically knocking several slow-moving Times Square tourists into the street, trying to get to Luke's Lobster in the East Village before it closed. We were rewarded with tender chunks of chilled lobster on buttered, toasted buns with just a sprinkle of lemon butter and a dash of secret spices – and no mayo. (They do offer a "swipe of mayo" if you want it, but we didn't – we just wanted lobster, plain and simple.)
The second event, closer to home and more to the point, was dinner at El Cid, a Mexican restaurant in our Logan Square neighborhood here in Chicago. Marion ordered the fish tacos. Again, no mayonnaise – just simply, plainly cooked chunks of fresh fish topped with onion cilantro salsa and accompanied by lime wedges. It was time to try my own take on fish tacos.
---