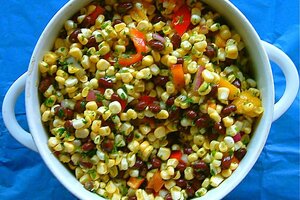 Kitchen Report
I was strolling through the Farmer's Market at Copley Square one day last summer when I heard a woman say, "This is heavenly." She's right. Something about baskets of peaches, tangles of beans, and bright sunflowers softens the heart of a city and brings things down to human scale in a forest of skyscrapers and historic buildings. Rows of homemade cookies, bags of bread, and jars of honey have the power to soothe even as sirens wail and traffic rushes by just a few feet away.
And then there's the corn. Lots and lots of corn.
You barely need to do anything to food that is this fresh, just take take it home and strip it down.
I was heading to a potluck later that evening and I knew exactly what I wanted to bring: A corn and black bean salad, using raw, sweet corn. I came across this recipe at a Fourth of July party one year.
"It's so easy," the hostess kept telling me. A guest at the party insisted that the secret was a packet of Good Seasons Italian dressing. If you don't have that handy, it's pretty easy to season this any way you like, using a combination of dried herbs (basil, oregano), salt (onion, garlic, celery), and a little sugar to draw the sweetness of the corn and fruit. This recipe uses mangoes but I bet you could use peaches, which are just coming into season.
One tip when you are shaving the ears of corn off the cob: Use the biggest bowl possible otherwise the kernels will bounce all over your counter.
As you prepare this dish, take a moment to appreciate the colors. Fresh produce this time of year is just so bright and vibrant.
Corn and Black Bean Salad
Serves 6 to 8
---