Mexican corn salad
(Read article summary)
Fresh corn is delicious alone, but have you ever slathered it in mayonnaise and salty cheese?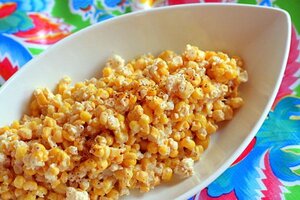 The Runaway Spoon
My favorite summer treat is definitely fresh corn, straight off the cob. I eat more corn in summer than I ought to admit. Usually just straight up, with a little butter and salt. When corn starts appearing in the farmers market, I buy bushels of it to put up for the winter. I ration out those little frozen bags of golden jewels like they really are precious gems. And when I light up the grill, I love to throw on some corn. Usually way more than my guests and I will eat, so I can cut the leftovers off the cobs and enjoy it later.
Mexican-style grilled corn, or elote, is another one of those food ideas that I read about for years before ever actually trying it. When I finally did take the plunge, slathering a freshly cooked cob of corn in mayonnaise and rolling it in salty cheese, I was hooked. This is now my favorite way to eat corn on the cob. When I started serving it at cook-outs, many friends were reluctant to try mayo on their corn, but the brave ones who did were hooked, too. Now there is an amazing Mexican deli in town that serves elote, and when I hear folks rave about it, I love to say I told you so.
When I have a smaller group of friends to serve, I grill the cobs and put them on a big platter. Next to that I put a bowl of mayonnaise for spreading, a dish of chili powder for sprinkling, a plate of crumbled cheese for rolling and some lime wedges for squeezing. Interactive food is always fun. But with a larger group, that is not always practical, in part because I only have corn cob holders for six ears. So when planning a larger gathering once, it occurred to me that maybe I could transform the idea into a salad. It works beautifully, with all the flavor of a traditional elote. It's great for a crowd, but is also a great way to take fresh corn along to a party. If you don't have the grill going, it is perfectly fine with just-boiled kernels.
Mexican Corn Salad
Cotija cheese is a salty Mexican cheese you'll find in with other Hispanic cheeses at most god groceries. If you don't find cotija, queso fresco is a good substitute.I prefer to buy blocks and crumble it myself to get even chunks.
Serves 6 – 8, can be doubled or tripled
---