Pickled sea beans
(Read article summary)
Pickled sea beans are delicate and crunchy and add tangy flavor to a sandwich or tossed salad.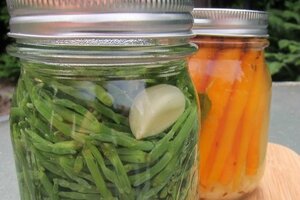 The Rowdy Chowgirl
Earlier this summer we traveled down to the Bay Area for my nephew's wedding. I have many remarkable nephews, so just to clarify; this is the one who can juggle fire. Somehow he went from a tiny little boy in red overalls and an impish grin to a fine grown-up man with a career and a house and now a family (but still the same impish grin). Go figure. Auntie's proud.
It was a quick trip, but we were able to spend Friday afternoon in San Francisco. Oh, that breezy, magical city. We had lunch at the Zuni Café. Although I have visited San Francisco many times, and I have The Zuni Café Cookbook, and Michael has been there before, this was my first time at the iconic restaurant. The experience was everything I anticipated, and more.
Sunlight poured through tall windows, glinting off the polished copper bar. At every table, casually elegant patrons chatted as they ate. The wait staff glided cheerfully past at just the right intervals, never obtrusive, but always available. And the food – adjectives fail me. I had spaghetti with roasted cauliflower, fennel, and capers. Michael had a burger on focaccia bread with pickled onions and zucchini on the side, and shoestring potatoes.
Then we absorbed a caramel pot de crème and a cheese plate with toasted almonds and chunks of bittersweet chocolate. As our meal drew to a close, I leaned back in my chair for a satisfied moment. The couple raised their glasses and toasted each other, "To the greatest day, ever!"
---