Corn and cheddar frittata
(Read article summary)
Quick and simple, and tastier than anything you could get from takeout.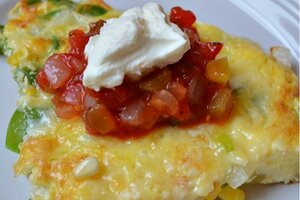 Three Many Cooks
When you work full time, contribute to a blog, run a small nonprofit and and live a frenetic city life, it's a small victory to get a home-cooked dinner on the table at night. The new sad truth is, most nights I don't.
I used to work from home and when I did, I savored dinner plans. I took time to think about what would taste good or ask Andy what he had a hankering for. I'd search for recipes online, leisurely scroll through blogs and cookbooks until I found the right recipe, meticulously make a grocery list, wander through the aisles of Whole Foods, and savor dinner prep. Elaborate home-cooked meals would just be coming out of the oven or off the stove as Andy stepped foot inside the door. He was spoiled. And so was I.
Andy works a demanding job in finance with long hours and all-hours conference calls that leave him completely sapped at the end of each day. He has been patient with me as I navigate this new world – essentially working two and half jobs, which means I just don't have the energy or time to cook like I used to.
These days it's a miracle if we can pull on our shoes and get out the door to a restaurant. Or flip open the laptop to order from Seamless Web.
But no matter how tired you are, there's only so much you can go out for dinner or order takeout before you really just want something from your own kitchen. Something simple.
What I once relished, I now find to be a nearly impossible multi-step task. As a food blogger and even just a cook, it's not easy to admit that, but it's true. At least for now.
There. I've said it.
---