Wild plum buckle
(Read article summary)
A buckle is essentially a coffee cake you can serve for breakfast or brunch.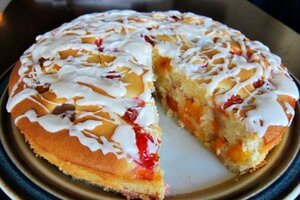 The Rowdy Chowgirl
Plums! Here it is, plum season. There can be something a little sad about plums; their appearance in the fall whispers a warning of wet mulchy leaves and frost. But I close my ears to that breath of winter and think only of sweet summer sunshine.
There were so many varieties at the farmer's market last weekend that I hardly knew just where to turn. Italian plums, Damson plums, a treasure trove of beauties of every color from deep purply black to pale yellow. The sign said, "please sample," and I was just one of a row of samplers savoring the tart-sweet plums.
There was a box of tiny, multicolored wild plums, no bigger than cherries. They were every color of blush, delicate as a little girl's cheek. They looked like a jewel box spilling rubies, citrine, garnets and moonstones.
Years ago, I had a very enlightened boss who would often say to us, "I'll give you the what, you decide the how."
I had my what: tiny, perfect plums that I was scooping tenderly into a bag. Then it was only a matter of deciding the how. How best to use this gorgeous fruit? I knew the perfect how would become evident, and after browsing through a few of my cookbooks, it did.
A buckle is a single layer cake that has a lot of fruit in it, giving it a bit of a wrinkled or buckled appearance. This recipe originally called for huckleberries, but adapted perfectly to small, tart plums. The cake is moist and dense, a bit tangy from the yogurt, and not overly sweet. The plum halves hold their shape quite well, studding the cake with their beautiful color and bursts of flavor.
You could call this a coffee cake and serve it for breakfast or brunch without hearing any protests.
---