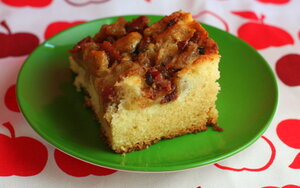 The Runaway Spoon
As October begins, I start to think about the farmers market season wrapping up. I've got a few weeks left, when I can buy beautiful apples, as well as pumpkins, winter squash, pears and greens, but I know things are moving into fall and winter. Smaller versions of the market continue, which is a boon, but not quite the same. My Saturday ritual is wrapping up for the hibernating season.
After a spring and summer of early morning marketing and weekends filled with putting my bounty by, I know the shorter days have a little less to keep me busy. One way I fill the Saturday morning void is with baking and preparing breakfast treats. And this is one of my fall favorites. A moist morning cake topped with maple-sweetened apples and salty, crispy bacon. It is a perfect warm treat for a crisp autumn morning.
You can easily make the apple and bacon topping up to a day before, and whip up the cake in the morning. A spicy cup of hot tea would be great with this kuchen. And I will say, I consider this a coffee cake, but it would also be nice as a dessert with some ice cream or sweetened whipped cream.
Apple and Bacon Kuchen
Serves 8 – 10
For the topping:
8 strips of bacon
2 Tablespoons butter
1/2 cup light brown sugar, packed
1 tablespoon maple syrup (grade B amber)
1/2 teaspoon cinnamon
2 granny smith apples
For the Kuchen:
1/2 cup (1 stick) butter, softened
1 cup sugar
2 eggs, beaten, room temperature
1 tablespoon maple syrup (grade B amber)
2 cups all-purpose flour
1 teaspoon baking powder
1 teaspoon baking soda
1 cup (8 ounces) sour cream
---