Meatless Monday: Roasted sugar pumpkins with cheese fondue
(Read article summary)
Cheese fondue in a roasted pumpkin makes a autumnal dinner party even more festive.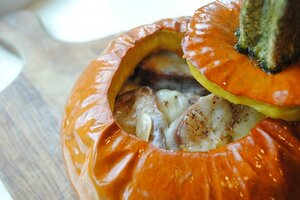 Three Many Cooks
I think my fiance Anthony and I went to our first real grown-up dinner party last week.
Sure, we've been over to friends' houses for dinner and we've hosted quite a few get-togethers at our place. But this was the first time we were invited to someone's house (whom we don't know that well) to dine with a handful of other folks we'd never met. Eeek!
On the walk over, I was buzzing with nerves and excitement. (I know, I know. It's just a dinner party.) But Anthony and I don't get invited over for dinner much by our peers. Between Mom's illustrious food career and our reputation for being good cooks, people are always saying, "Oh, we can't cook for you guys!" Over the years, I've seen this happen to my parents a lot, but I wasn't prepared for it to happen to me! So I was glad when these brave souls extended the invitation.
When we arrived, we were warmly ushered in, our coats were whisked away, and beverages made their way into our hands. The air was warm and smelled deliciously autumnal – whatever we were going to eat was still the oven so I was going to have to wait and see. The other guests introduced themselves like old pros, and we lost no time in digging into the artfully arranged hors d'oeuvres. To my surprise and delight, we pretty much skipped the "Where are you from?" and "What do you do?" questions and dove into deeper, funnier conversations. These people were awesome! My nerves settled a bit.
When it was time to eat, one of the hosts admitted that she did, in fact, know of my mother. She earnestly explained that this meal wasn't going to be as "impressive" as what I was accustomed to growing up in the house of the Pam Anderson. (How do you like that, Mom? You are the real Pamela Anderson. Ha!) And I dutifully said, "Oh, don't be silly!" and all the things I've heard Mom say when she gets similar speeches.
---