Meatless Monday: Roasted pumpkin, pine nut, and feta salad
(Read article summary)
Roast pumpkin on a Sunday and have easy salad fixings for the rest of the week.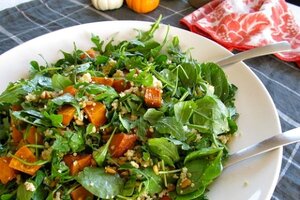 Beyond the Peel
When I was quite a bit younger, like most young adults in their early 20s, I took some time to travel. Luckily, being Canadian, I qualified for a traveling work visa for countries that are part of the Commonwealth. The beauty of traveling this way is that not only can a person make a little money while exploring new countries, but a person can stay for quite some time and really get to know an area. If you ask me this is so much more enjoyable than the whirlwind trips we often take and only remember through the pictures we snap because everything happens so fast.
My first stop was London, England. I still remember my walk to work past Trafalgar Square, the Asian restaurants that served beer in tea pots after hours, the people watching, and my favorite Donair shop.
This cute little bistro not only served excellent food, but the atmosphere was fantastic. They had free jazz once a week with really talented musicians and excellent people watching. I tried a few different things off their menu, but once I found this salad, I never tried anything else. I went back once every two weeks for a Roasted Pumpkin Salad with toasted Pine Nuts and Feta on a bed of Roquette (also known as Arugula). Click here to read some of the reviews and photos. Though they no longer have this salad on their menu, you'll just have to trust me that it once was. I don't have the exact recipe, so all I can go on is my memory to help me match the taste. I think I was quite successful.
Putting this salad together could take some time, simply because roasting a pumpkin is no small thing. If you're making this on a Sunday like we did, it's nice to prep a few things for the week. We made up a batch of millet, roasted squash and toasted pine nuts, a batch of chickpeas and hard boiled eggs. With that all done, this salad literally takes 5 minutes to put together, along with some other great recipes I'll be able to put together during the week.
---