Peanut butter fudge
(Read article summary)
Amazingly simple to put together and makes a great addition to any holiday treat collection.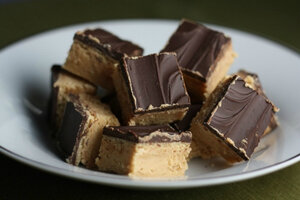 The Gourmand Mom
When I was younger, my family had an Irish Wolfhound as a pet. For those of you who are unfamiliar with the Irish Wolfhound breed, they are, on average, the tallest breed of dog. They are the size of small pony, with the most gentle, protective, and obedient personalities. Our Irish Wolfhound's name was Gideon, named for the angel, Gideon, in the 1985 movie, One Magic Christmas. Sadly, as with many large dog breeds, their lifespan is not long and we lost him long before anyone was ready. It was an honor to have Gideon in our lives.
My siblings and I remember the day our family first met Gideon. He was a few months old at that point. The breeder, an older woman, had initially planned on keeping him, but quickly realized she didn't have the stamina for another pony-sized puppy. As my parents and the breeder sat inside to discuss the purchase details, my siblings and I were send outside to play with the 'puppy'. This 'puppy' was already the size of a full grown German Shepherd with all of the energy of an 8-week-old Labrador. He wanted nothing more than to romp around that yard and tackle me and my sisters. We shrieked and screamed and laughed. And when the negotiations were complete, we took our new puppy home.
But this post isn't really about Gideon. It's about Gideon's fudge. My mom has been making this fudge at Christmastime for as long as I can remember. Each year, she'd make a two-pound batch of the fudge, package it in a tin or plastic container, and place the fudge on a counter, along with the other annual Christmas goodies. Well, Gideon's head was easily counter-height, a fact we too often forgot.
You can imagine what happens next. My family arrived home one day to find Gideon, lying on the living room floor, moaning as his stomach furiously growled. It didn't take long to find the empty container of peanut butter fudge. Thankfully, a call to the veterinary poison control center assured us that a dog his size would need to consume at least nine pounds of the chocolate-glazed peanut butter fudge to be in any real trouble. His bellyache eventually subsided and we all learned a valuable lesson about safe places to store food.
---