Meatless Monday: Udon noodle soup
(Read article summary)
A delicious broth is the key to this noodle and vegetable Asian soup.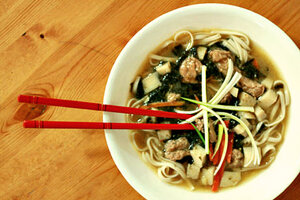 Novel Eats
I love many cuisines from Mexican to Italian to Spanish to good old fashioned American, but if I were really honest with myself I'd have to confess that my absolute favorite is Asian. I say "Asian" because I cannot commit to any particular aspect of the breadth of Asian foods. I'm in love with Indian breads, samosas, and papadum, I salivate over Korean kimchi and bibimbap, and I crave Japanese sushi rolls and inari for weeks at a time – and that's just scratching the surface.
While I do prepare some Asian foods at home on occasion, I admit that I am still a little wary that I don't understand how to cook it well enough. That said, I am really fortunate to live so close to multiple Asian markets, and I feel that I am slowly stretching my culinary wings. It's easy to go into one of these stores, discover an ingredient remembered from a restaurant and have the impulse to buy it and try replicating the dish at home. This is what happened last week as I was wandering down the pasta aisle and came upon some Japanese style udon noodles. As soon as I saw them, I realized that I needed to learn how to make udon noodle soup.
After researching various recipes I have come to realize that udon noodle soup is less about recipe and more about what you have on hand. In many ways, it is very similar to how I am used to throwing together a hearty vegetable soup without wondering if I have added too many or not enough potatoes or carrots, or worrying if I have a specific ingredient on hand or not. It doesn't really matter, because the end result will still be delicious. What I found is that most udon noodle recipes call for a broth, noodles, some vegetables and mushrooms, and a protein. It's my opinion that the key is to get the broth down, and then experiment, experiment and experiment. Luckily my first try had me wanting to recreate it the next day, so this recipe I'm sharing with you is a winner in my book.
---