Pomegranate and poached pear salad
(Read article summary)
An elegant hors d'oeuvre for a holiday party or perfect first course for a seated dinner.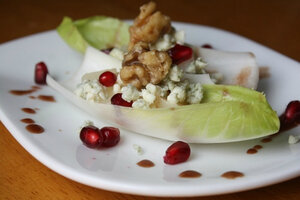 The Gourmand Mom
I'd like to take a moment to officially declare pomegranate as the most fun fruit to eat.
First comes the game of removing the tiny, shimmering pomegranate gems, called arils, from the hard exterior rind. Some people recommend a process of scoring the outer rind of the pomegranate, soaking it in cold water for a few minutes, then breaking the pieces open and allowing the arils to fall to the bottom of the water while the rind floats on top. Others recommend cutting the pomegranate into pieces and smacking the rind with the back of a spoon to loosen the arils, which should eject from the fruit. I like to simply cut the pomegranate into pieces and go to work, pulling apart the fruit piece by piece, systematically releasing the gazillions of juicy arils from within. There's something incredibly satisfying about peeling back the layers of membrane within the fruit to uncover pockets of the sweet, plump gems.
The small effort of removing the arils yields a great reward; a bowl full of sweet, ruby gems. Pop one in your mouth and enjoy the sweet burst of juice as you bite into each delicious seed. Pick one up the next time you spot them in the grocery store. Now is the time to enjoy this delicious, fun fruit! And they're super healthy for you, too!
If you can stop yourself snacking on this tasty fruit, save some of the pomegranate arils for this delicious composed 'salad' of sorts. This seasonally perfect dish would make a very elegant hors d'oeuvre for a holiday party or perfect first course for a seated dinner. (Pretty certain this is going on my Christmas dinner menu!) Fresh pears are poached until tender, then paired with salty Gorgonzola and vibrant pomegranate arils, nestled into a crisp leaf of Belgian endive. A simple pomegranate balsamic vinaigrette and candied walnuts provide the finishing touches.
Pomegranate and Poached Pear Salad
Serves 4-6
2 heads Belgian endive
1/2 cup pomegranate arils
1/2 cup Gorgonzola cheese, crumbled
For the Poached Pears:
2 ripe, firm pears (Anjou, Bosc, Bartlett…)
4 cups poaching liquid (water, white wine, champagne, apple juice…)
1/4 cup honey
1 vanilla bean (optional)
1 cinnamon stick (optional)
---