A simple Italian celery soup
(Read article summary)
Leftover celery teams up with chicken, carrots, tomato paste, and rice to become Minestra del Sedano, a satisfying meal in a bowl.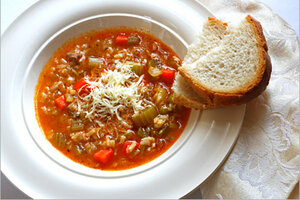 Blue Kitchen
One of the things that bugs me about cooking is buying a fresh ingredient for a recipe, using only a little and later finding the withering remains in the fridge. It happens a lot with fresh herbs, I'm ashamed to admit. But for some reason, the thing that galls me the most is throwing out the wilted carcass of a stalk of celery from which I've only used a rib or two.
So recently, after using a couple of ribs of celery from a fresh stalk for a pot of chili, I was determined to use up the rest of it. My first thought was celery soup. Doing a quick online search, I mostly found various puréed versions. I'm sure they're lovely, but I was in the mood for soup with chunks of stuff in it.
Then I came across a recipe for minestra del sedano, Italian celery soup, posted by my friend Lydia at Soup Chick. It called for about twice the celery I had on hand and fewer other ingredients (no chicken or carrots, for instance). I'm guessing with my tinkering, I've actually veered a good distance from true Italian celery soup. But I used up all the celery I had on hand, and we ate well that night. Again, not a holidayworthy meal, but a good one. Happy holidays, everyone. Eat well.
Italian Celery Soup
Serves 3 to 4
---