Celebrate National Peanut Butter Day
(Read article summary)
For a decadent peanut butter treat, try these peanut butter blondies topped with buckeyes and encased in chocolate.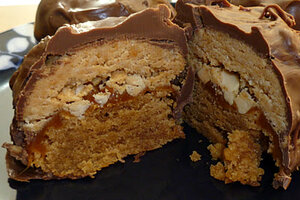 The Pastry Chef's Baking
I've been toying with the idea of making a homemade version of a Snickers bar for awhile. Snickers is another childhood candy favorite but I rarely eat it nowadays. I've done a homemade Twix version and a homemade Almond Joy version. Now it's Snickers' turn. Technically, I suppose this really isn't a Snickers bar though since it doesn't have nougat. Instead, I used a peanut butter blondie as the base, covered it with a layer of caramel and roasted peanuts and topped that with the peanut filling from a buckeye recipe that Lauren, one of my friends from culinary school gave me. Lastly, I enrobed it in milk chocolate.

To make this, you need 1 pan of Peanut Butter and Milk Chocolate Brownies without the milk chocolate in the middle, a cup or so of caramel melted with a little milk until just the right consistency (not too thick, not too thin, Goldilocks), sprinkled with chopped roasted peanuts (roast the peanuts first then let them cool before using), topped by a layer of Lauren's buckeye filling (recipe below), enrobed in melted milk chocolate candy melts.
---