Molten lava cake for National Chocolate Cake Day
(Read article summary)
A flourless, molten chocolate cake will warm up National Chocolate Cake Day.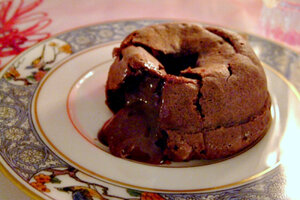 Kitchen Report
January 27 is National Chocolate Cake Day in the United States. To be honest, I thought every day was chocolate cake day. This warm (and flourless) chocolate lava cake is delicious enough to declare a national celebration. But to help keep us all focused, there are several national food day lists floating around like this one to make sure all kinds of decadent delights get their day.
I'm a little curious, though, how National Pie Day, National Peanut Butter Day, and National Chocolate Cake Day all fall in the same week. I have a sneaking suspicion that the final week of January is right about the time that most folks have felt pretty good about the three weeks of intense dieting and exercise they have done after the holidays. Admit it. Your thinking has probably come close to this at some point: "I've been to the gym twice this week. Of course I deserve pie/peanut butter/chocolate cake!"
Molten lava cakes are the perfect little cakes to celebrate National Chocolate Cake Day. They require relatively little effort and bake in less than 15 minutes. Even if the cakes collapse into a quivering pool of warm chocolate, I promise you that your guests will not complain. Cover them with enough ice cream and in one, two, three, swoops of their spoons the cake will be gone.
But if you do want to impress a loved one, you might want a practice run or two to figure out the best results with your oven. If you underbake it, you will end up with a puddle of chocolate (there are worse things). If you overbake, by even a minute, no molten center – and you'll end up with more of a brownie cake (again, not a travesty).
Now get celebrating. And keep this recipe handy for Valentine's Day.
Molten Lava Cake
Adapted from Bon Appétit
Serves 4
---