Chao Ca Vietnamese fish porridge
(Read article summary)
Ever tried cooking with a whole fish? Chao ca is a flavorful and nourishing fish stew.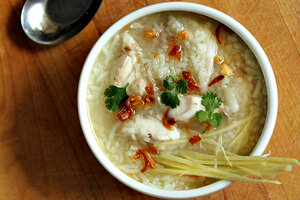 The Ravenous Couple
Following 12 days of carefree honeymooning Spain last November, where every day was an culinary adventure, the first thing we craved after a grueling trans-Atlantic and cross-country flight back to Los Angeles was something simple, homey, and soupy. We expected a warmer welcome, but we were greeted with cold, heavy rain, and even hail upon our return. So a comforting bowl of cháo (rice porridge or congee) was the first thing we made as soon as the jet lag wore off.
There are many different versions of cháo, but the most common are cháo gà (chicken), cháo lòng (pig offal/innards), and cháo cá (fish). Just as there are many varieties, there are just as many ways to make cháo. Some make a thick, bland porridge and then add different types of broth and toppings. We present a very traditional southern way of making cháo cá, made famous in the Mekong delta region, known for its abundance of fish and sea life and floating markets.
You can use any type of firm, white flesh fish, however the traditional fish used in the Mekong is cá lóc, the snakehead fish. We prefer using a whole fish (we used striped bass. Also if you have frozen shrimp shells saved, use those, too, to make stock. Fish filets are acceptable as well. The easy way would be to cut the fish into bite size pieces and add that to the porridge to cook, however, the traditional way of making fish stock and sautéeing the flesh in garlic makes for a deeper and more soulful flavor – and totally worth the extra effort.
Chao Ca Vietnamese Fish Porridge
Serves 6
---