Fish stew, French style
Once a humble dish, Bouillabaisse now has haute-cuisine status. But it's still surprisingly simple.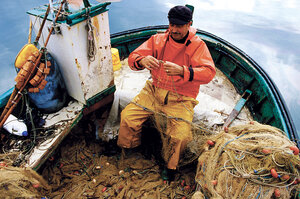 Newscom
Bouillabaisse, that ancient and legendary fish stew, has a history as rich and colorful as its ingredients.
Over the centuries along the coast of Marseille in southern France, local fishermen have brewed their humble fare with a variety of so-called "trash fish" and leftovers from the day's catch. Although still considered a simple dish, bouillabaisse (BOO-yuh-bess) has achieved haute-cuisine status with the addition of flavors and spices synonymous with the dish today. The end result has been described by one Provençal food writer as a "magical synthesis."
Exactly what constitutes a "real" bouilla­baisse is a matter of debate. Some purists insist that no authentic recipe can be prepared outside the Marseille area. The focus of this discussion centers on the rascasse, a nasty-looking scorpion fish, which is said to act as a sort of catalyst, bringing out the delicate flavors of the other denizens of the deep.
Indeed, in the several bouillabaisses I've had along the Côte d'Azur, the rascasse is prominently displayed atop the other fish in the dish.
On a recent trip to the French side of the Caribbean island of St. Martin, I did a bit of bouillabaisse sleuthing. I found a number of restaurants serving their local fish stew "in the bouillabaisse style." The fish used were local snapper, mahi-mahi, and grouper, among others, but all included those flavors that give the soup its uniqueness: fennel, orange zest, and that most expensive of spices, saffron.
Where all agree is that the soup must be prepared with a variety of fish, never fewer than four – some firm, some tender. That said, bouillabaisse is still a simple stew, taking only about 15 minutes to prepare.
Shellfish, although not included in a traditional bouillabaisse, add a certain panache. Try to include monkfish. Then serve the soup with a simple green salad and a dessert plate of French cheeses.
Bouillabaisse
Serves 6 to 8
1/4 cup virgin olive oil
1 medium fennel bulb, thinly sliced
3 large leeks, white part only, thoroughly cleaned, thinly sliced
---