Guyanese cheese pies
(Read article summary)
Like mini quiches, these mini pies have a short crust pastry filled with an egg and cheese custard.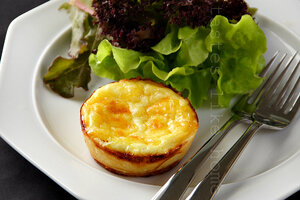 Tastes Like Home
The cheese pies we make in Guyana is a riff of the Portuguese Egg Tart, pastel de nata. And, in essence, it is like a mini quiche, drawing influence from the British proclivity for custards baked in pastry. I suspect that what we did in Guyana, as is done throughout the world with food that has traveled, is that we adapted the tart and married it with our penchant for English pies and came up with a Guyanese cheese pie.
The pie is simple, it is a mini pie with short crust pastry filled with an egg and cheese custard and baked. That's it. Use only the finest quality ingredients, especially because they are so few in this recipe.
You can find cheese pies at many snackettes and other eateries in Guyana that sell pastries.
Guyanese Cheese Pies
Yield: 13 - 15
For Pastry:
2 cups all purpose flour, plus extra for dusting
1-1/2 teaspoons sugar
1/8 teaspoon table salt
2 ounces cold vegetable shortening, cubed
6 ounces cold unsalted butter, cubed
3 to 4 tablespoons iced water
Add flour, sugar and salt to the bowl of a food processor and pulse a few times to mix.
Add shortening and butter to flour and pulse until the mixture is coarse with pebbles of butter and shortening. Alternately, cut in the butter and shortening to the flour using a pastry blender or two dining knives or use your hands.
Add water and pulse until the dough starts to come together. Do not over mix.
---