Curried chicken salad with apricots and cashews
(Read article summary)
The go-to meal when you don't know what else to make for dinner.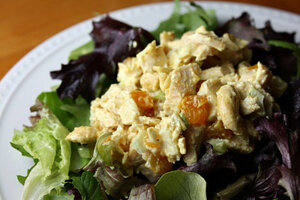 The Gourmand Mom
My husband and I have a tendency to get sucked into TV shows, especially when we jump on the bandwagon a little late and have the benefit of being able to marathon our way through previous seasons.
Long ago, in our young, child-free lives, we found ourselves sucked into "The Sopranos." This was way back in the day when people rented movies from places like Blockbuster. Netflix was still in its infancy, Redbox didn't exist at all, and cable on-demand options were limited. But, there was good ol' Blockbuster … reliable as long as you managed to snag the video you wanted, before someone else did. My husband and I picked up "The Sopranos" a few seasons into its run. And we got hooked. We'd stay up way too late and then find ourselves walking to Blockbuster at 11:30 p.m. (or running if we were minutes before closing) to get the next disc … for just one more episode. It was a rough adjustment once we'd caught up and had to wait week to week for new episodes and months or even years between seasons. But, that excitement of getting caught up in a show is so much fun.
Most recently, "Battleship Galactica" did it again for us…this time on Netflix streaming, which saved us those midnight runs to the video store. The show hooked us in the same way as "The Sopranos," maybe even more so. We never would have predicted that a sci-fi show (not our typical genre) would have had us watching the clock until the time we could put the kiddies to bed so we could fire up another episode.
---