Meatless Monday: Masoor dal with cumin seed oil
(Read article summary)
A delicious Indian dish, ready to go in 20 minutes.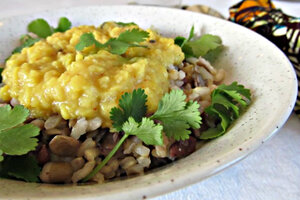 Beyond The Peel
If I had to pick one type of cuisine to eat for the rest of my life it would be…
Impossible.
But if I had to pick three types of cuisine, then I'd settle on Mexican, French, and Indian. The amount of joy that I get from those types of dishes is beyond amazing. They're like the trifecta of food in my opinion.
The other night it was my turn to make dinner and Indian food just felt right. Normally, when we make Indian food it tends to be an all day affair. We love making chana masala, butter chicken and garam masala, but those all take a while to make. But what about dal (some people spell it daal, dahl, or dhal – whatever you prefer)? Now that's a winner – and it's fast.
I'm partial to red lentils, so making masoor daal sounded just right. Masoor dal is made with red lentils, which I absolutely love. I didn't have a recipe in mind, so a quick Google search lead me to this recipe. I made a few modifications, namely using coconut oil instead of veggie oil, fresh onion instead of dried onion, and adding pink Himalayan salt and some Meyer lemon juice. What resulted was a fast, delicious, and very easy to make Indian dish, ready to go in 20 minutes.
Now that's my kind of meal.
Masoor Dal with Cumin Seed Oil
Adapted from allrecipes.com
Masoor Dal
---