Meatless Monday: Moroccan tagine
(Read article summary)
Tagines in Moroccan cuisine are slow-cooked stews braised at low temperatures.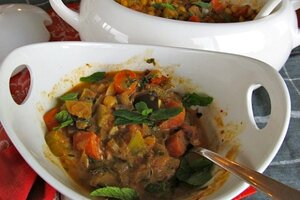 Beyond The Peel
I had been craving a vegetarian Moroccan Tagine for weeks before I got it together enough to buy the ingredients I needed to make it. You see, it's been lurking in the back of my mind since I made preserved lemons. One of the most common uses for preserved lemons is in Moroccan cuisine.
I had originally wanted to just follow a recipe I found on Epicurous, but I ended up changing most of the veggies and some of the spices so now it really doesn't look like much like the recipe that inspired our dinner. Surprise, surprise, I couldn't follow a recipe.
Some of the changes ended up being mandatory to fix the taste. The original was really not worth writing about or sharing. For me this was more a lesson in how to fix a mediocre recipe than finding that perfect veggie packed tagine recipe. Now fortunately for me and my guests, it turned out great in the end and we enjoyed it for days with all the yummy leftovers. If I could teach one thing it would be the skill of fixing mediocre recipes into fabulous creations. If this is something you'd be interested in learning, let me know.
We all get excited about a recipe we'd like to make, only to be disappointed with the results. It happens to all of us. Now there's not much one can do about baking except make it over again with the appropriate changes, but stews and soups are a whole different story. Additions can be made at the end and often can take a meal to new heights. I am so glad I had used less preserved lemon than suggested and less brined olives. I don't know if it would have been fixable otherwise. In this case, it was a matter of adding honey and cinnamon to balance out the briny-ness, and yogurt to balance out the salt.
And then the flavor heavens opened up. AAAHHHHH! and the angels sang.
It was a beautiful thing.
Vegetable Moroccan Tagine
---