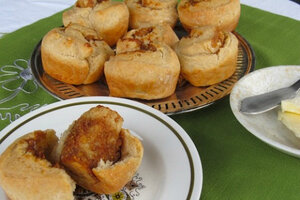 Beyond The Peel
I made this gnocchi last week and I have to say the highlight was the curried fig butter. But now what? I had a little left and it was too good to let it go to waste. I needed to make a real dent in it. So, yesterday afternoon I decided to make a vegetable tagine (stay tuned!) I had been dreaming about, and out of no where the most amazing idea came to me. Like angels singing from above! It was magical!
Cinnamon rolls made with curried fig butter (sans sugar of course). Now, that was a good idea. But I didn't want to fuss with yeast and regular bread dough but I had a better idea! I found a recipe for yogurt biscuits years ago (sorry I can't quote a source because it was hand written in my little cookbook so very long ago) and they've been a household favorite ever since. I suspect it's the yogurt that really sets these biscuits apart. They stay moist and light for days, unlike it's buttermilk counterpart that typically are only good the day they are made.
I pulled one of these out of the fridge today to eat with leftovers and it was still just as moist and light as yesterday. I love this biscuit recipe!
Curried Fig Butter Biscuit Rolls
2 cups sprouted spelt flour (but any flour works)
1/4 teaspoon baking soda
3 teaspoons baking powder
1 teaspoon salt
1/4 cup oil of choice (I used olive oil)
1 cup full fat yogurt (I used 6%)
Curried fig butter*
Cinnamon, to taste
Preheat oven to 375 degrees F.
Prepare curried fig butter (recipe below). Set aside.
In a large bowl, mix dry ingredients together. Add oil and yogurt. Mix until just combined.
---