Meatless Monday: A vegan dinner party
(Read article summary)
Chickpea patties, lemon rice, and green bean mallum make a balanced and tasty meal.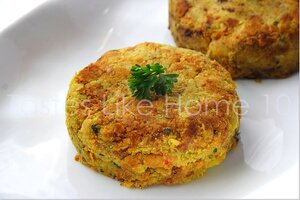 Tastes Like Home
Smack in the middle of Christmas week last year, a time filled with ham, turkey, lamb and chicken, I hosted my first vegan dinner!
When my friend, Taymer told me that she and her husband Laurent, both vegans, were coming to Barbados for the holidays, I did not hesitate in extending an invitation for a meal. Her response to my invitation floored me. She said that because they were vegans they were rarely invited out to dinner. This made me more determined to ensure that they'd have a meal to remember. Vegans do not eat meat or any animal products, which include things like butter, milk and cheese. When they do consume these products, they are always plant-based. Vegans eat only plant foods – vegetables, legumes (beans and peas), grains, fruits, nuts and seeds.
Once I had extended the invitation, I spent time thinking about the menu. I wanted to ensure that there was balance to the meal and that it contained all of the food groups we expect with each meal – a starch, protein and vegetable. I went a little further and thought of the flavours and textures I'd like the meal to have. And so I decided to make chickpea patties (for protein), lemon rice (for starch) and green bean mallum (for vegetables). Mallum is a type of salad dish well known in Sri Lanka. Vegetables are cut, mixed with coconut, onions and a little turmeric and cooked very quickly to ensure that most of the nutrients of the vegetable remain intact. I also made a quick pickle of some bell peppers.
My menu would also reveal the kind of flavour notes I was after – sweet from the mallum and bell peppers, sour and savoury from the lemon rice and salt from the chickpea patties.
The day of the dinner arrived and I set about making the meal.
Taymer and Laurent arrived and we sat down to eat. I was nervous. While I've entertained various types of vegetarians before, I prayed that the food, tastes and flavours were acceptable. Laurent ate and seemed to be enjoying it but my eyes were on Taymer, this was a foodie after all and no matter what the pattern of eating, foodies know food and are serious about it. I could see her tasting as she took each bite, I saw her spread the mallum, fork prongs playfully pushing the beans and coconut around … she kept remarking at the mallum, that it was the first time that she had eaten coconut in a savoury dish. It was new. And she liked it. The meal continued. I relaxed, and we ate and chatted. Later, over tea, she said they had been wowed. I was chuffed.
---
Follow Stories Like This
Get the Monitor stories you care about delivered to your inbox.