Meatless Monday: Homemade vegetable stock
(Read article summary)
Make and freeze your own vegetable stock using veggie kitchen scraps.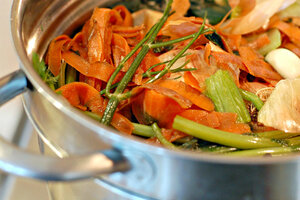 The Garden of Eating
Although I love making soup, it's always bothered me that making stock feels so wasteful. As the child of one of the world's thriftiest people (love you, mom!), the idea of tossing a whole bunch of gorgeous carrots, celery, onions, and herbs into the pot, only to remove them all a little while later, replacing them with new veggies that would feature in the actual soup, has always rubbed me the wrong way.
And buying cartons of stock is expensive and those cartons may or may not actually be recyclable (never mind whether my garbage company actually recycles the stuff it claims to recycle...) so that was not really doing it for me either. But then, a couple months ago, I saw a post on Facebook about making vegetable stock from kitchen scraps! My prayers had been answered.
So I started saving some of the veggie scraps (more below on which ones are best to use and which ones you should avoid) that would otherwise have gone straight into the compost bucket. I stored them in one of this one-gallon Ziploc bags in my freezer. Since I like to cook and I like vegetables, they started piling up pretty quickly.
Then I followed the incredibly simple instructions (basically, cover them with water, bring to a boil and simmer for one hour, then strain) to make my own homemade vegetable stock.
And guess what? It's good! It was easy. It was free. And absolutely no vegetables were wasted in its making. Once I was done with those scraps, they got tossed on the compost heap, too.
---