Chocolate Belgian waffles
(Read article summary)
Crispy on the outside and satisfyingly chocolate-y on the inside.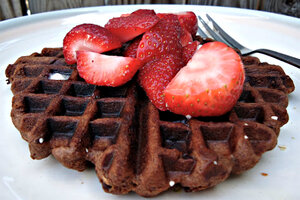 Eat. Run. Read.
As a kid I took my waffles with a chocolate chip in each divot and drowning in syrup. My sister was/is the family's designated wafflemaker – most weekend mornings she could be found presiding over the iron, a double batch of batter in the bowl beside her, making waffles for the week.
Alas, this sister is far far away in California, but luckily I have another friend nearby to provide for my waffle needs who took waffles to a whole new level recently. She by-passed the chocolate chip distribution step entirely and just made straight up Chocolate Belgian Waffles.
They're crispy on the outside and satisfyingly chocolate-y on the inside. Surprisingly these waffles aren't overly decadent. Chocolatey? Yes. But not too sweet or too rich. We ate them with butter, syrup, and strawberries. Delish!
Notes before you begin:
The special ingredients (pearl sugar and Hi-maize) are totally worth it
I did add espresso powder.
Substitute for Dutch-process cocoa: 1/2 cup regular cocoa powder with a bit under 3/8 of a teaspoon baking soda (the ratio is 3 tablespoons cocoa to 1/8 teaspoon baking soda, 1/2 cup is 8 tablespoons and not 9 tablespoons).
The batter has to sit for an hour!
Make a full batch and keep them in a 200 degree F. oven until you're ready to serve.
Chocolate Belgian Waffles
Recipe summary
Hands-on time: 30-40 minutes
Total time: 1 hrs 45 minutes
Yield: eight 7-inch to 8-inch round or heart-shaped waffles
Starter
1/4 cup granulated sugar
2-1/4teaspoons instant yeast
1/4 cup unbleached all-purpose flour
---