Pancakes for Fat Tuesday
(Read article summary)
Fat Tuesday, or Shrove Tuesday, is celebrated in Britain with pancakes.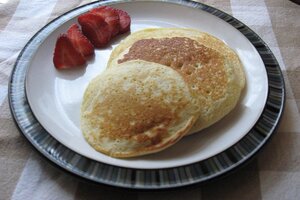 Lane Brown
In the British calendar the final Tuesday before Lent is known as "Shrove Tuesday," though it's more often referred to as "pancake day" in modern times. The derivation of the word "shrove" is unclear but it is thought to be derived from "shriving" or asking forgiveness for sins, a typical Christian activity on this day.
As the final day before Lent, Shrove Tuesday is also traditionally a day of feasting before the Lentern abstinence or fasting that evokes Jesus' 40 days and nights in the desert. The pancake bit comes from the fact that in order to find it easier to abstain, one should use up all ones flour, milk, sugar and eggs on Shrove Tuesday, and while a lot of things can be made from those basic ingredients, the Brits – long ago – decided pancakes were the thing to make. And, since the combination of these ingredients makes for a high calorie experience, Shrove Tuesday (it's such a puritanical idea – shriving, isn't it?) is known as Mardi Gras in French, or literally, fat Tuesday. Those Catholics have all the fun, don't they?
British pancakes have more in common with the a French-style crepe than they do with the thicker, but smaller pancakes common in America, although the recipe is largely the same. On pancake day it's quite common to have a mixture of both savory and sweet pancakes, though the sweet versions are the more popular. (We had both savory and sweet – see savory filling recipe below.) Typical fillings are very simple and are often limited to powdered sugar and jam or nutella, or just a squeeze of fresh fruit juice. My family's favorite filling is granulated (plain, white) sugar and lemon juice. The less stuff you have in the middle, the more pancakes you can have, see…?
---