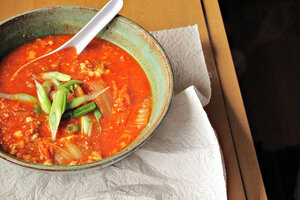 In Praise of Leftovers
This is a classic Korean soup, and there are more complicated and caloric ways to make it. It's often made with pork belly (yum!), but the point for me is usually to have something quick and healthy. I can make it for myself in 10 minutes for a working lunch at home. It takes that long to make a sandwich, for gracious sake.
Of course, this would be impossible without my pantry. When Armageddon comes, feel free to hole up with us. We might have brown rice and kimchi for months on end, but we won't run out of food. If we're really desperate, we could probably live on Asian condiments for a week or two.
Here's my dream (Westernized) Asian pantry. Sheepishly, I should admit that this dream is a reality most the time. Even though we've moved out of our Asian-Market-on-Every-Corner Seattle neighborhood, I have my ways:
Sesame oil and sesame seeds (white and black)
Hoisin sauce
Oyster sauce
Rice vinegar
Soy sauce
Fish sauce
Mirin (sweet rice wine)
Toasted seaweed sheets
Sriracha (hot sauce)
Sambal (hot sauce)
Furikake, a few different kinds (Japanese seasoning shakers, usually containing seaweed, sesame seeds, and dashi)
Miso paste
Korean hot pepper paste (gochujang)
Peanut or vegetable oil
Fresh ginger and garlic
Napa kimchi
White and brown rice
Rice noodles
Coconut milk
Red curry paste
Limes
Peanuts
---