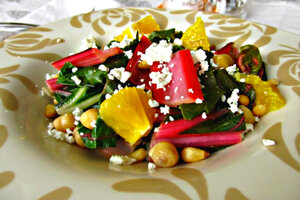 Beyond The Peel
There's something about the arrival of spring where I can always hear myself saying, "This is my favorite time of the year," even though summer and fall evoke the same statement. I think after a cold winter, I'm ready to embrace the tulips and cherry blossoms, but most of all, the variety of spring produce that is available.
After a winter filled with apples, squash and root vegetables, I'm ready with open arms for peas, asparagus, Swiss chard, spring beets, kale, garlic scapes, nettle, rhubarb and radishes. It's like my body starts to crave all the bright and dark green leafy greens that flourish so beautifully this time of the year.
It's not to say I won't be as excited for all the summer bounty, but for now there's more than enough to be creative with and I know we'll have so many yummy dishes to keep us busy.
This wilted salad is one of my spring time cravings. With the earthy wilted chard greens, I paired sweet and citrusy orange segments, a light vinaigrette and topped it with goat cheese and toasted pine nuts. The chickpeas add substance and protein so the meat is not necessary. You can eat this as a main or serve it as a side. And, of course, I figured out all of these perfect flavor pairings with my Flavor Bible. How did I live without this book for so long?
I hope you'll decide to give this a try. It's a relatively simple recipe that comes together quickly if the chickpeas are made ahead of time. I can't see why white beans or navy beans wouldn't sub in beautifully here if that's what you have on hand.
If you follow traditional food preparation, I've included the Nourishing Traditions soaking method for the chickpeas in the notes.
---