Meatless Monday: Beet and pear slaw on tortillas with dill crème fraiche
(Read article summary)
A slaw that is sweet and tangy, crunchy and tender, the perfect texture to be wrapped up in a corn tortilla or on its own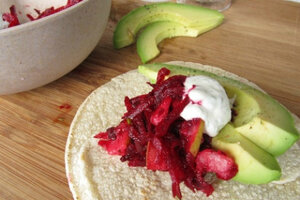 Beyond the Peel
The word "slaw" is kind of like the word "casserole" … there's just nothing appealing about it!
Hey, baby, want some slaw for dinner?
Not that appetizing.
But this slaw is different, nothing at all like its grandfather, the coleslaw, so don't let the name deter you from trying it. You know the "grandfather coleslaw" I'm talking about. The nasty one found in buckets at the grocery store, or the one so often served next to fish and chips. The one that is literally dripping wet with a nasty mix of mayonnaise and unpronounceable ingredients and the cabbage has gone all limp and soft in this unnatural state.
This slaw is sweet and tangy, crunchy and tender, the perfect texture to be wrapped up in a corn tortilla or on its own. Leave out the tortilla and serve it on a bed of greens with sliced avocado instead. Mmmm. To bad there's none left….
Every once and a while, I make something that so thoroughly hits the spot that I'm thrilled for days. This was one of those. The best part is that this beet slaw, as good as it is mixed with all the other components of the meal, is just as delightful on it's own. I find myself with a fork in hand reaching into the beet slaw bowl to have a couple of bites, like drinking from the milk carton.
It's funny how this simple act feels kind of naughty. Yet there's nothing naughty about raw beets and pear with the lightest dressing as a quick little snack. This is a "naughty" I can feel good about. If all the things in our fridges could inspire such a feeling, wouldn't the world be a different place?
---