Crispy picnic slaw
(Read article summary)
A slaw with a vinegar base that will hold its form inside a cooler or on a picnic table.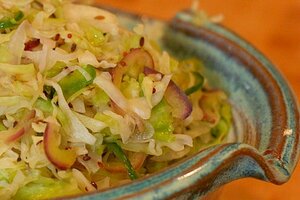 The Runaway Spoon
Years ago, during my event planning days, I helped a client plan a lovely riverside party, with a good old-fashioned fish fry. This client was very particular. About everything. But particularly about slaw. He insisted on vinegar-based slaw, not mayonnaise dressed. The caterer took copious notes on his slaw pronouncements and produced what I (and everyone else who ate it) thought was a lovely slaw. The client was not pleased however. He insisted it had mayonnaise in it. It had a creamy texture, but no mayonnaise. The caterer explained exactly how it was made – with a vinegar dressing – but he refused to believe there was no mayo. The rest of the evening was, to say the least, tense.
But all the talk of slaw led to a discussion of slaw preferences among the event staff back in the kitchen. Everyone had an opinion – mayo, no mayo, no vinegar, carrots, purple cabbage, green cabbage, bought pre-shredded or handcut. I was not a real slaw aficionado, so I had no idea there were this many opinions. Everyone was swapping ideas, writing down notes on napkins and this is the one I wrote down. The lovely lady that shared this told me, "Honey, this'll keep crispy in the fridge for weeks." I've never left it around for weeks, but it will stay nice and crisp through a long weekend.
In fact, that's one of the reasons I call this picnic slaw, as opposed the ubiquitous creamy barbecue slaw served in every barbecue joint in Memphis. Because of the vinegar dressing, this slaw holds very well in a cooler or on a picnic table. The salt water soak keeps the vegetables crispy and mellows the bite of the onions and the dressing is sweet-tart with the tang of vinegar and mustard seeds.
Crisp Picnic Slaw
This makes a good amount of slaw, and will serve 8 nice big side portions, but many more smaller helpings.
I buy the ingredients for this at the farmers market, and when I saw the purple peppers I knew it would add a nice touch of color, but feel free to use only green.
1 medium head green cabbage
2 bell peppers (green and purple are my choice)
1 medium onion
2 tablespoons salt
1-1/2 cups cider vinegar
1-1/2cups sugar
1/2 tablespoon mustard seeds
1/2 tablespoon dill seed
---