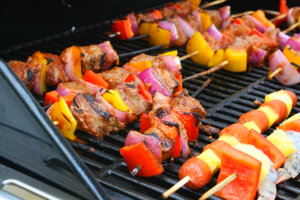 The Gourmand Mom
It's grilling season and I'm giddy with excitement!! I'm a charcoal grill girl at heart. I love the back-to-basics feel of it all, grilling over hot charcoals, lit with a simple piece of newspaper, a match and a chimney starter. No aftertaste of lighter fluid; just delicious, smokey grilled flavor.
The problem is that most days, I cook before my husband is home from work, which means that I'm on my own to tend to the exposed grill flames, while simultaneously entertaining our three very active little men. The process of preparing a charcoal grill takes a good chunk of time, all of which I spend wound up like a bundle of nerves, as the kids run chaotically around the yard and I repeatedly yell for them to stay away from the grill, which of course, seems to draw them even closer to the grill like mosquitos to a bug zapping light. It's a fiasco, which induces a lot more stress than grilling joy. The end result is that we rarely use the charcoal grill.
I've been eyeing gas grills for a couple of years now. I hemmed and hawed over buying one last year. I came very close at one point. This year, I actually did buy one. And we've used it more in the past two weeks than we used the charcoal grill all of last year. There is definitely something to be said about the ease and convenience of a gas grill. In the past two weeks alone, we've grilled burgers and cedar-plank salmon and sausages and marinated chicken breasts and ribeye steaks and hot dogs for the kiddies. And these kebabs.
I made these kebabs last weekend. My sister and brother-in-law were in town and we were entertaining a small group of friends. Kebabs seemed like the perfect main course. I made shrimp kebabs skewered with sweet red peppers and pineapple, which I marinated in a bit of coconut milk, olive oil, lime juice, chile powder, shallots, and cayenne pepper. And these sweet and spicy beef skewers, coated in a fresh Asian-inspired barbecue sauce, sweetened with ripe cherries and a touch of honey. I'm head over heels in love with this versatile barbecue sauce and have big plans for slathering it on chicken, pork, shrimp, and salmon this year. It's going to be a great grilling season, for sure!
---