Gray snapper in coconut milk
(Read article summary)
A quick meal for when you don't have a lot of time to spend in the kitchen.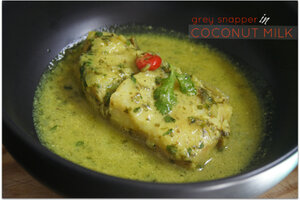 Tastes Like Home
I love Jacques Pepin. The man is truly a master, but he scares me. I remember watching him on one of his earlier PBS series where his daughter, Claudine, would be cooking with him – such a brave woman. It was so typical of many parents with their children in the kitchen: the watchful eyes, the directions, the taking of your knife and demonstrating how they want it done. I'd watch the show and only realize that my fists were clenched or my legs crossed tightly
when the show was over. I was always scared for her, but Claudine handled herself well. Every time.
OK, so the only reason that I mention Jacques Pepin is because he has a book titled: "Fast Food My Way." However, it's a phrase I use a lot when chatting with my friends about quick meals I make when I don't have a lot of time or energy to spend in the kitchen. It aptly describes the dish I am sharing with you today: Grey Snapper in a Coconut Milk Sauce.
All you need are a few ingredients and this dish is done in about 20 – 25 minutes. It goes well with rice but when I made it, I had it with crusty homemade bread. It was so good. Just let the bread sit in the bowl or pan and soak up the sauce. Use a couple of napkins; place one over your chest to prevent your clothes from being soiled. Trust me, that heavenly, yeasty bread pregnant with sauce is bound to drip!
Grey Snapper in Coconut Milk

---