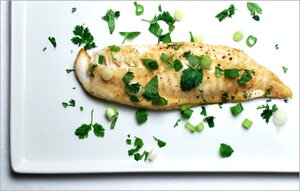 Blue Kitchen
Steaming food is a healthy way to cook. As practiced in Western kitchens, mostly on vegetables, it's also often a bland way to cook. In Chinese kitchens, it is an art. Chinese cooks use both steaming and smoking to infuse foods – especially meats and fish – with delicate, complex flavors.
Chef and cookbook author Eileen Yin-Fei Lo knows a thing or two about Chinese cooking. Daniel Boulud calls her "the Chinese godmother every chef wishes he had." In her beautiful, thorough Mastering the Art of Chinese Cooking, she says, "Steaming is, in every respect, a restorative process that makes food glisten. It is a historic method of Chinese cooking that stretches back through the centuries to when there were no ovens and all food had to be cooked on the top of a brick stove over a wood fire, with woks as the steaming vessels."
Bamboo steamers have become the traditional and most popular tool for steaming foods. We certainly love ours. But there are ways to steam food if you don't have one. One is to set a wire cake rack inside a deep, lidded skillet large enough to accommodate a glass pie plate or other vessel to hold the food you're steaming. That method works well for this dish.
Besides making food moist and preserving its natural flavors, steaming does a great job of transferring the tastes and aromas of aromatics to food. More even than marinating, the flavors seem to work themselves into whatever you're steaming. The effect isn't overpowering, though – it's quite delicate.
---