Sweet grits with sorghum peaches
(Read article summary)
Classic grits with a splash of vanilla and sugar and heaped with syrupy peaches.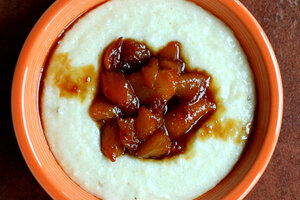 The Runaway Spoon
Sweet grits are something you occasionally, but rarely, see in old community cookbooks. The kind that are handwritten and mimeographed, and use measures like "a coffee cupful" and "butter the size of a hen egg." Sweet grits are more of a concept that people talk about.
You see, grits are one of those dishes that engender recipe-swapping and reminiscing. When a big bowl of grits is on the table, people start to remember things like, "My granddaddy always ate his grits with butter and sorghum," "no, now, my granddaddy ate his with salt," or "my mama always served cheese grits with pork chops." Everyone has a memory and an opinion.
That's how I first heard of sweet grits, as a dish somebody remembered their grandmother talking about but had never actually had. But, like so many things, the idea stuck with me.
I mulled it over for years before ever getting around to attempting it. I asked around. A few people had ideas, but they mostly consisted of making regular grits and sprinkling sugar on top.
I adapted my classic grits recipe with added sugar and a hit of vanilla. They are excellent with any fruit on top, but I personally love summer peaches. Earthy sorghum and sweet peaches marry perfectly, and the creamy grits are an amazing backdrop.
Sweet Grits with Sorghum Peaches
Serves 4
Stone ground white grits work best for this, you'll find them at natural food stores or online. If you have to, use old-fashioned (not instant or quick) grits as an alternative, but adjust the cooking time according to the package instructions.
For the Peaches:
4 – 5 medium sized peaches
2 tablespoons butter
2 tablespoons brown sugar
2 tablespoons sorghum
For the Grits:
4 cups whole milk
1 tablespoon butter
1/2 vanilla bean
Pinch of salt
1 cup stone ground white grits
1/2 cup sugar
1/4 cup heavy cream
---