Six Southern cookbooks
(Read article summary)
A round-up of recent cookbooks featuring new twists on traditional Southern tastes.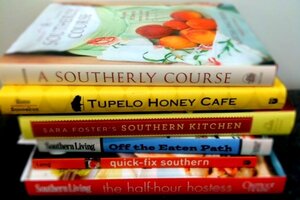 Kendra Nordin
I've had a collection of recently published cookbooks on my desk that I have been meaning to tell you about. They are all Southern-themed with gorgeous photographs, funny stories, and recipe collections that range from familiar comfort food such as fried chicken and macaroni and cheese to the exotic – pickled crawfish tails, anyone? Peanut butter turns up in the most unexpected places. 'Chow-chow,' a pickled relish of vegetables, is a perfect use for an abundance of cabbage.
If these cookbooks made noises you'd hear the squeak of screen doors and the creak of old wooden floors with distant sounds of the guitar, mandolin, and banjo. Stereotypical? Perhaps. But that's what those of us who have traveled or lived in the South love about that region. Things don't change too much. Things are slow and uncomplicated. And food has to be good enough to keep folks at the table long enough for the storytellers to run out of wind.
By Martha Hall Foose
(256 pp., $32.50, Clarkson Potter)
Martha Hall Foose, a charming storyteller and cookbook author, released another Southern-flavored volume this spring titled A Southerly Course. (Her first cookbook "Screen Doors and Sweet Tea" earned her a James Beard Award.) With the gentle rhythm of her prose that even seeps into her lists of ingredients, it's hardly a surprise to discover that as a child Foose lived down the road from Southern writer Eudora Welty. With recipes such as "Yazoo Soufflé" and "Charming Cherry Pie" alongside delicious photos and gentle, humorous essays y'all will be smitten enough to slow down and stir things up in the kitchen, and that's all right.
Glazed Rutabags
From "A Southerly Course"
"These glazed rutabagas look like topaz when cooked down with brown sugar, cider vinegar, and butter. My friend Jule adores rutabagas and thrift store jewelry. I came up with this dish for her."
Serves 6
1 large rutabaga (about 2 lbs.), peeled and cut in 1/2-inch dice
2 tablespoons unsalted butter
2 tablespoons dark brown sugar
1 tablespoon cider vinegar
1 teaspoon salt
Put the rutabaga in a large skillet and add enough salted water to cover. Set over medium-high heat and bring to a simmer. Cook for 10 minutes or until slightly tender. Drain off the water and add the butter, brown sugar, vinegar, and salt. Bring to a boil, reduce the heat to low, and simmer for 12 minutes or until the rutabaga is very tender and the butter begins to brown. Serve warm.
---