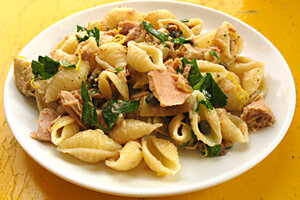 Blue Kitchen
This one of my summer favorites – a quick, colorful pasta that makes a great lunch or light supper. The only thing you cook is the pasta, so the kitchen doesn't get too hot. It's also another great example of just how versatile pasta can be once you think beyond red sauce.
In Italy, a no-cook pasta sauce like this is called a salsa cruda. The room temperature sauce slightly cools the cooked pasta, and the pasta slightly warms the sauce, making for a meal that feels less heavy than many pasta dishes. The shells catch bits of tuna and the other ingredients, delivering big taste with each bite.
There are so many wonderful flavors at play in this dish too – garlic, lemon, parsley, tuna, artichoke hearts … and my favorite, the briny tang of the capers. They combine for a fresh, bright meal that just tastes like summer. In fact, I've been known to make it as a winter lunch for that very reason.
A note about the tuna. For this dish, bring out the good stuff – quality tuna packed in olive oil. The olive oil becomes part of the sauce. I use a brand imported from Italy. As you can see in the photo, the quality of the flesh is far superior to the ground-up mush you often find in canned tuna. Spain also produces excellent olive oil-packed tuna, so whichever you can find locally will work.
Pasta Shells with Italian Tuna and Artichokes
Serves 4
For the salsa cruda:
2 6-ounce [168 g] cans imported Italian tuna in olive oil
1 6-ounce [168 g] jar artichoke hearts, drained, bigger pieces sliced in half lengthwise
1/4 cup [60 ml] capers, drained
grated zest and juice of 1 lemon
1 large garlic clove, minced
1/2 cup [120 ml] chopped fresh flat-leaf parsley leaves [see Kitchen Notes]
freshly ground black pepper to taste
---