National Cheesecake Day
(Read article summary)
July 30 marks National Cheesecake Day. If you been participating in Couch Olympics, slice a piece of cheesecake to bring festivity to your TV-watching.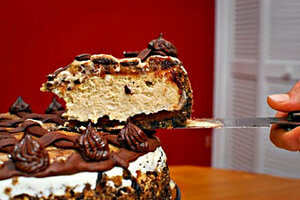 Eat Run Read
It all started, like so many Eat Run Read baking adventures do, with an e-mail and a baking challenge from a friend. Within the hour we had a time, we had a plan, and we were ready embark upon the most epic baking adventure yet to grace the Eat Run Read kitchen: a cookie dough fudge cheesecake.
My friends knocked on my door late that Saturday afternoon. They came bearing a bag of groceries: heavy cream, cream cheese, chocolate, etc. (all the most important things in life). They joined my roommates on my couch, opened a bag of chips, and settled in to observe an afternoon/evening of baking.
Are you a true foodie? Take our quiz!
This is pretty usual for us. I love cooking, and I like when other people are around, but I do not like other people in the kitchen with me. I just don't understand how one bakes with someone else. As far as I'm concerned, it's a one-person endeavor. And quite the process it was! This cheesecake is not that difficult, it just has a lot of steps. But all the best things in life are worth the time, right? And yes, I do include this cheesecake as one of the best things in life. It may be the best thing I have ever made. It's definitely the prettiest.
I only slightly modified the recipe. I didn't have enough Oreos, so I did half Oreo, half crushed graham crackers for the crust. This cake's only flaw was that the crust came out soggy. (Ugh, why is crust always so difficult?) I suggest baking the crust for 10 minutes before adding the ganache. And also, when you take the cake out of the oven, immediately unwrap the foil and cool the cake on a cookie rack.
And this recipe made way too much ganache. We're talking twice the ganache you need. Not that I'm really complaining. But if you want to avoid that chocolatey temptation, halve the ganache recipe.
---