Chocolate peanut butter chocoflan
(Read article summary)
Creamy melted peanut butter and warm fudge sauce over a rich, dense chocolate cake.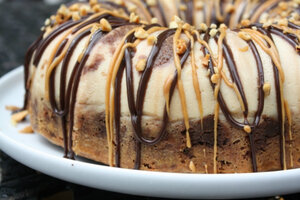 The Gourmand Mom
I've got a treat for you. Sometime in the weeks before we hosted a little Mexican fiesta, I picked up a Better Homes and Gardens magazine which featured all Mexican recipes. As I was flipping through the mag, I came across a recipe for a minted cake with a layer of dulce de leche flan on the top. Honestly, the combination of mint and dulce de leche did nothing to excite my taste buds, but in the description of this recipe, it mentioned something called chocoflan. Chocolate cake and creamy, caramelly flan?? Yup. I could get behind that idea. I found a recipe for chocoflan on the Food Network website and made it for my fiesta.
As far as baking goes, this is a pretty cool cake to make. The flan mixture gets poured over the cake mixture and sometime during the baking, the cake rises to the top, while the flan gently cooks in the bottom of the bundt pan. I followed the original recipe exactly as written, as I often do when I'm baking something unfamiliar. Baking is a much more exact process than cooking, so it's a bit more important not to play around too much with ingredients and procedures until you have a better sense of what you're working with.
The end result is delicious and show-stoppingly gorgeous. The cake is rich and dense, almost like a brownie. The flan is as decadent and satisfying as a perfect complement to the chocolatey cake. Though perfect as is, I toyed around with the recipe on my second attempt, substituting creamy melted peanut butter and warm fudge sauce for the dulce de leche in the original recipe. A handful of peanut butter chips, added to the cake batter, spreads peanut buttery flavor throughout the rich dessert.
Chocolate Peanut Butter Chocoflan
Adapted from Marcela Valladolid's Chocoflan
For the Cake
10 tablespoons butter, softened (plus additional butter for pan)
1 cup sugar
1 egg
1-3/4 cups flour
3/4 teaspoon baking powder
3/4 teaspoon baking soda
1/3 cup cocoa powder
1-1/4 cups buttermilk
1/3 cup peanut butter chips
For the Flan
---