Summer joy: Tomato, brie, and herb pasta
(Read article summary)
With simple ingredients and just a bit of chopping, this sweet and creamy pasta dish comes together without much work or kitchen heat.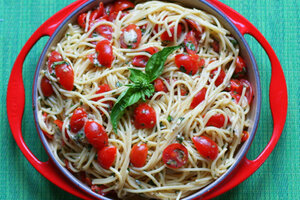 The Runaway Spoon
I've been making this dish for years, decades if I'm honest. I really thought it was my own unique creation, and I patted myself on the back for its genius every time I made it. It's been my date night dinner, my decadent solo treat and my impressive meal for friends. I made it in my first apartment kitchen and shared it with my first house roommate.
It dates, for me, to a time when anything with brie seemed sophisticated and gourmet, before I had stretched my culinary wings too far. But I just realized, when developing it and photographing it for The Spoon, that it's not my recipe. It's from the classic "Silver Palate Cookbook," which I have had for years. My favorite recipes in the book are marked and stained – but oddly not this one. Oh, I've changed it up a little to suit my tastes, but it is definitely from the cookbook.
Recipes do that, they travel and share and move and become part of a family or a personal legend. I love looking through community cookbooks from different eras and different regions and finding the same basic recipe, maybe with a different name or spelling. That's one of the many magical aspects of cooking and feeding friends and family, the community built around good food. And by the way, I also recently realized that I've been taking credit for Nigella Lawson's lemon linguine for some time now, too.
This really is the joy of summer in a delicious, creamy pasta dish. And it's quick to put together – just a bit of chopping. Sweet cherry tomatoes really shine in this dish, with the nice firm bite preserved. The simple sauce smells wonderfully summery and the brie melts and coats the pasta, making a rich and decadent cream sauce without the work and kitchen heat.
---