Ricotta and wild mushroom ravioli
(Read article summary)
Looking for a special-occasion dinner? This recipe for homemade ravioli is sure to impress.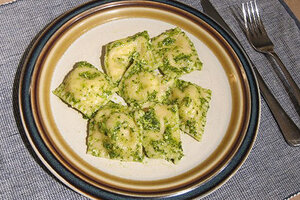 The Rowdy Chowgirl
There's everyday food and then there's special occasion food. Homemade ravioli are not the sort of thing most of us are going to whip up on a weeknight. Or – let's be realistic, here – even an average weekend.
But a while ago, I started daydreaming about making a very small batch of ravioli. Something manageable and fun and even a little zen rather than a marathon all-day affair with flour everywhere and pasta drying on every flat surface. I imagined tender little pasta pillows with a really savory filling and a simple sauce. I pictured myself rolling out a small sheet of pasta dough with my rolling pin. No pasta maker required was a must in this fantasy, since I gave my pasta maker away years ago to a friend – may she get more use out of it than I ever did!
I continued the scenario in my mind with two artfully arranged plates, music in the background, and candles on the table.
In support of this fantasy, I ordered a ravioli cutter from Amazon.
Then I made a batch of rich homemade ricotta cheese.
It was go-time.
Ricotta and wild mushroom ravioli
Serves 4
Dough:
1-1/2 cups flour (plus more as needed)
1 egg
1 teaspoon olive oil
1/2 teaspoon salt
1/2 cup water
Filling:
1 cup fresh, whole-milk ricotta
1/2 cup chopped wild mushrooms (reconstituted dried mushrooms work fine)
To make the dough:
---