Pumpkin-ginger bundt cakes with browned butter glaze
(Read article summary)
This recipe can work in a number of ways, as one large bundt cake, as mini bundt cakes, or as cupcakes. Separating the eggs, beating the whites, and folding the batter together makes for a light cake full of rich spicy pumpkin flavor.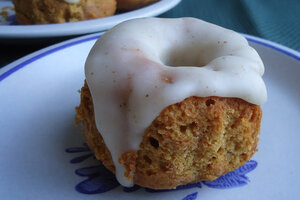 Eat. Run. Read
This past weekend the pumpkin cravings hit me hard. It feels like everything good about fall here in D.C.: crisp cold morning, sunny warm afternoons, skirt and scarf and no jacket necessary kind of weather. Basically the perfect time of year for a hot cup of coffee accompanied by a spicy pumpkin-y baked good.
Saturday afternoon/evening I turned up some music, put on my apron, and made something delicious that I've been eyeing all week – pumpkin-ginger bundt cakes with browned butter glaze.
There's something almost cake donut-y to the texture, and the slight crunch of sugar in the browned butter glaze might be my new favorite thing. I think the awesome light-but-dense texture of the cake (I know that's a oxymoron, but if you try them you'll know what I mean) can be attributed to all of the beating time – seriously, that butter and those eggs didn't know what hit them! – and subsequent careful folding to keep it all from going flat and overmixed.
My love of all things pumpkin has been well-documented on Eat. Run. Read., but I think this is my favorite pumpkin cake/cupcake recipe to date!
As the original recipe warns, be sure to thoroughly grease and flour your pans! You don't want to lose any of these babies to sticking. I have a silicone mini bundt pan, which makes it easier to push the cakes out.
Pumpkin-Ginger Bundt Cakes with Brown Butter Glaze
Adapted from Une Gamine Dans La Cuisine
---