Pork, chestnut, kale stir fry over soba noodles
(Read article summary)
Ginger, garlic, and chili paste flavor pork stir-fried with chestnuts and kale and served over gently fried soba noodles.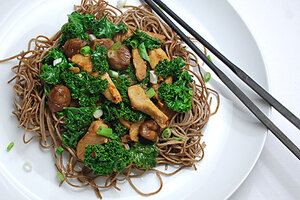 Blue Kitchen
We've often talked about our love for Chinese food, which for us is the ultimate in comfort food. In the last year or so, our adventures have led us away from our friendly old favorites in the kitchen, but some recent enjoyable dinners in Chinatown, and a memory of past pleasures, put it front and center for us again.
This dish came together due to a fortuitous combination of impulse purchases, pantry staples, and a memory of other Octobers. Please note that in this recipe, I am talking about true chestnuts, from chestnut trees – not water chestnuts, which are the corms of an aquatic sedge. Think walking down the rue de Rivoli, at just this time of year. It's evening, there's a bit of chill in the air, the street is thronged with people, and you are dawdling along in your light wool coat, glancing into the gleaming windows and the faces of strangers, holding a paper cone of hot, roasted chestnuts you just bought from a street vendor and wondering where you'll go for dinner.
This dish nods to Paris in the fall, but it primarily pays a visit to Asia, with aromatic ginger and garlic, spiciness from chili paste and hot bean paste, the warm, naturally sweet taste of soba noodles and everything stir-fried together.
When you're in a mood that is part Arrondissement, part Chengdu, this just might help. It would make a very nice fall dinner. In the ancestral versions of this, the noodles are first boiled, then drained and fried in the same pot in which you make the pork, but this time I found it easier to sauté them separately until they were lightly gold, then introduce the two parts during plating.
Pork chestnut kale stir fry with fried soba noodles
Serves 4
1 pound pork, cut into 2-inch-long ribbons (I used boneless pork chops)
3 cloves of garlic, minced

1 tablespoons ginger, crushed and minced
2 to 4 tablespoons chili paste (to taste)
A 6- or 7-ounce package of roasted, peeled chestnuts, cut or broken in half (see Kitchen Notes)
8 to 10 stalks of kale, ribs removed and the leaves torn into small pieces
12 to 14 ounces dry soba noodles
canola oil
---