Spiced cider pound cake
(Read article summary)
Use real apple cider, cinnamon, nutmeg, and cloves to flavor this pound cake. Serve it as-is, or top it with a glaze of your choice for a homey dessert or gift.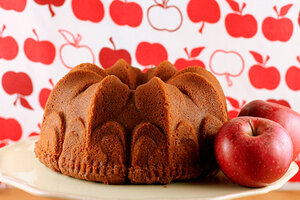 The Runaway Spoon
Growing up in the south, fall was always just a short little respite from the heat, before the dull, dark cold winter. The leaves turn quickly and fall fast. The weather is only really sweater-worthy for a few days. The mass-marketed Halloween costumes were always hideously hot, and eating outside on Thanksgiving is usually a possibility.
I love everything about fall. Autumn colors, falling leaves, pumpkins, warming meals, the nip in the air. But I never really realized the true glory of fall until I started college in Connecticut. I suddenly understood why people would take leaf-viewing car trips, and those preppy catalogs and magazine shots now made sense. I took those leaf-viewing drives myself, driving through picturesque towns awash in amber, gold and russet. I bought apples at road-side stands, and finally wrapped myself in soft sweaters, fashionable jackets and colorful scarfs.
And it was on these exploratory fall jaunts that I was introduced to real apple cider, a world away from the apple juice I grew up with. I loved hot cups of cider with a cinnamon stick and warm, cake doughnuts served at those roadside stands to keep the hands and heart warm.
Real apple cider is now available readily here, and I enjoy it to the fullest. A nice warm mug is a special warming treat, and I use it to make French onion soup, to jazz up my family favorite waffles and hash and in the classic Thanksgiving sweet potatoes. And it is wonderful for baking.
---