Two cookbooks to menu-plan Thanksgiving
(Read article summary)
The trick is to prepare as many dishes as possible in the week leading up to Thanksgiving Day.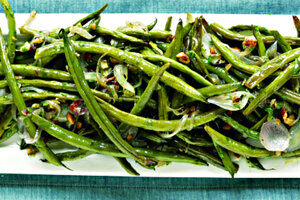 Scott Phillips©The Taunton Press
As Thanksgiving rolls closer, Web searches for "green bean casserole," "how to brine a turkey," or "pumpkin pie" recipes always heat up. But more often than not, what people are searching for is some guidance on how to host a large dinner party with classic, favorite Thanksgiving dishes. Here are two cookbooks – and two approaches – to navigating the big day.
The editors and contributors of Fine Cooking magazine have released a paperback cookbook titled Fine Cooking Thanksgiving Cookbook (The Taunton Press, 2012), which has lots of recipes for cooking turkey and all its holiday trimmings. It gives you tips on "How to Survive Thanksgiving" such as, plan ahead, shop in phases, and don't do all your cooking on one day. Other tips tell you how to rescue dinner from kitchen disasters, such as burned pan drippings and lumpy gravy.
"Thanksgiving Cookbook" has chapters dedicated to each course of the Thanksgiving meal and includes updated and healthy versions of classics. (Sorry, you won't find green bean casserole made with canned mushroom soup in this cookbook. Their recipe for Garlic-Roasted Green Beans & Shallots with Hazelnuts follows.) The turkey chapter alone is 50 pages and covers everything from selecting to roasting to carving your turkey with style.
And it doesn't end with step-by-step instructions for rolling out the dough for homemade pecan pie. In the "Continuing the Feast" chapter you'll find recipes for what to do with leftovers: "From soothing soups to chile-spike Mexican-inspired dishes to heart pasts (and no turkey tetrazzini in sigh), turkey's obligingly mild flavor adapts to all kinds of dishes." Think: turkey enchiladas with creamy tomatillo sauce.
---