Cookbook review: 'Cook's Country Blue Ribbon Desserts'
(Read article summary)
'Blue Ribbon Desserts' from America's Test Kitchen is both textbook and recipe collection.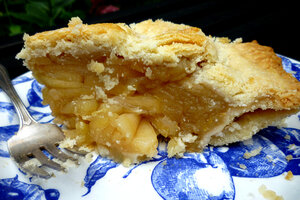 Ross Atkin
Probably like most home bakers, I spend a lot of time trolling for recipes that look like winners. So you can imagine my excitement when the Monitor's food editor approached me with a review copy of "Cook's Country Blue Ribbon Desserts," by the crew at America's Test Kitchen (ATK).
I'm an ATK fan and happy to interrupt my college football viewing on Saturday afternoons to watch my two favorite weekly cooking shows, the namesake "America's Test Kitchen, " followed immediately by "Cook's Country," both hosted by Christopher Kimball and featuring his regular on-air sidekicks.
These guys don't know how to leave well enough alone. The ATK foodies basically assume they can improve if not perfect every recipe under the sun – even the classics (I took a stab at the Deep-Dish Apple Pie; more on that in a minute). Sometimes this presumption of achieving culinary perfection can be a little grating, but it's hard to argue with the consistently satisfying results.
Nontheless, to see the ATK team eat a little humble pie proves that these experts don't have all the answers. They confess in "Blue Ribbon Desserts" that their habitual fiddling couldn't improve at least one classic: Wacky Cake.
My wife has had this old reliable in her recipe box for many years, so I knew it was yummy, even without frosting. It took ATK, however, to dig out the history behind this "make-do," mix-in-the-pan concoction that dates to World War II. They also explain the chemistry of what they describe as the easiest cake they've ever made, and one that is "surprisingly good." The offbeat ingredient, white vinegar, lifts the batter with a last-minute reaction with baking soda.
Like all ATK-produced cookbooks – and it seems there's a whole library now – "Blue Ribbon Desserts" is as much engaging textbook as collection of recipes. In this case, the recipes range from the conventional (angel food cake and chocolate chip cookies, e.g.) to the alluringly offbeat ( Blackberry Roly-Poly, Sand Tarts, and Cranberry Upside-Down Cake, to name several).
---