Cookbook review: 'The Apple Lover's Cookbook'
(Read article summary)
'The Apple Lover's Cookbook' by Amy Traverso is a practical apple encyclopedia with recipes for 59 varieties of apples.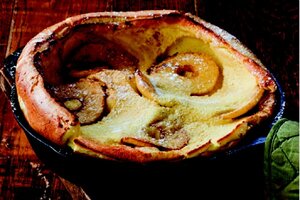 Three Many Cooks
"The Apple Lover's Cookbook" arrived right on cue the moment I was contemplating Apple Week at Three Many Cooks. I had seen an advance copy when I wrote a blurb for the back for it last spring. Here was my assessment of the book back then:
"Google 'apple' and you'll get a little info. Purchase Amy Traverso's "Apple Lover's Cookbook" and you'll get an in-depth guide to the major 59 apple varieties and a collection of all our favorite recipes savory and sweet (including which style of apple to use in every one). I wish there was a book like this for every single fruit and vegetable."
Now that's it fall, I'm really loving this book. Apples are coming in strong, and I've got a book full of appealing recipes – Vermont Apple Cider Donuts, Williamsburg Wrapples (little iced apple pastries) and a whole chapter devoted to pies and other baked apple desserts. There are savory recipes, too – Pork and Apple Pie with Cheddar-Sage Crust, Sweet Potato-Apple Latkes, Apple Risotto.
In fact the recipes looked so good I couldn't settle on just one, so the publisher has given us permission to run two. This morning it's Dutch Baby, a puffy apple-filled popover, perfect weekend breakfast/brunch fare. The Southern girl in me couldn't resist Apple-Stuffed Biscuit Buns, so stop in tomorrow for that recipe.
When I said I wish there were a book like this for every single fruit and vegetable, I meant it. "The Apple Lover's Cookbook" is one resource you'll keep coming back to for years – both for its appealing, timeless recipes and for its invaluable, exclusive apple information.
Dutch Baby
From "The Apple Lover's Cookbook"
Makes: 4 servings • Active time: 20 minutes • Total time: 35 minutes
Since the apples don't fit in the skillet in a single layer you'll need to move and shift them so they cook evenly – just cook them until they get an appealing golden brown. And make sure you mix the batter until it's smooth.
---