Sweet potato cobbler
(Read article summary)
Sweet potatoes are on everyone's plate in some way for Thanksgiving dinner. But here's a soul food variation to enjoy any day of the year.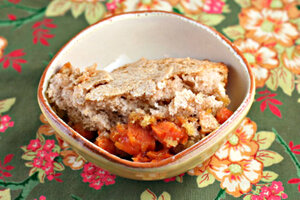 The Runaway Spoon
I'm going to go all Southern on you again with this delicious, old-fashioned, homey dessert perfect for the autumn table. I'm not, however, going to get into a discussion on what exactly a cobbler is – biscuit top, crumble top, pastry top, whatever. This is how I make cobbler, and that's good enough for me.
But really, is there any more comforting dessert than a cobbler, no matter how you define it? Gooey, sweet filling, nice warm topping, all bubbling goodness. This is a dish I had only had at soul food restaurants, and usually as an occasional special, so I had to figure out how to make my own version to be available at any time.
The underappreciated sweet potato does not get enough play outside Thanksgiving, pie and the occasional fry, and that's a shame, because they are incredibly versatile and healthy, though admittedly not so much when simmered in a sweet syrup and covered in spiced, cakey topping. In fact, my exposure to sweet potatoes for most of my life was limited to Thanksgiving, and those often came with marshmallows on top – and I am not a fan of that version of sweet potato casserole. But once discovered, sweet potatoes, like so many other things, opened up a world of possibilities and find their way into my kitchen all year. One of my favorite farmers market vendors sells gorgeous sweet potatoes that I can never resist.
If you over buy on the sweet potatoes for Thanksgiving, this is a great way to use them up, but I am telling you, make this just 'cause, anyway. Just 'cause it's that good.
Sweet Potato Cobbler
Serves 6 – 8
I like this just fine all on its own, but like most cobblers, ice cream or whipped cream are a welcome addition.
For the Sweet Potatoes
---