Turnip puff with buttered breadcrumb topping
(Read article summary)
Wondering what to do with turnips? Boil a batch with a potato to remove any bitterness, then mash, and bake them with brown sugar and nutmeg to bring out a sweet flavor. Top the whole thing with buttered breadcrumbs.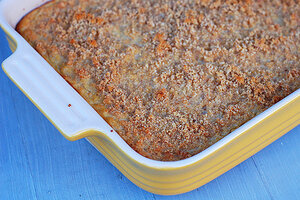 Garden of Eating
Two weeks ago, the very last farmers market of the year happened to fall on the same day as our final CSA (community support agriculture) veggie pick-up. I was thinking of this double whammy as rather tragic until superstorm Sandy descended.
But the losses and devastation Sandy left in her wake gave me an injection of fresh perspective – while sigh-worthy, the lack of fresh veggies pales in comparison to losing a home, a car, or even just electricity for more than a couple of days. We were extremely fortunate here in upstate New York – barely even lost power and all the trees that might have fallen at our house had been taken down already. I am hoping for a speedy recovery for the millions who got walloped.
Meanwhile, that final CSA box left us with five pounds of truly gorgeous scarlet turnips that I was not sure what to do with. Scarlets are a mildly sweet variety of turnip that I'd never encountered before. So I turned to my favorite recipe resource, Food Blog Search and turned up this whimsically named recipe for a turnip "puff."
The ingredients looked appealing to me – I like the idea of adding brown sugar and nutmeg to play up the turnips' natural sweetness. And I certainly won't say no to anything that is topped with buttered breadcrumbs. It also looked pretty easy so I gave it a whirl.
---