Roast chicken with root vegetables
(Read article summary)
Roasting chicken, sweet potatoes, parsnips, onions, garlic and rosemary together melds flavors beautifully in this one-pan meal.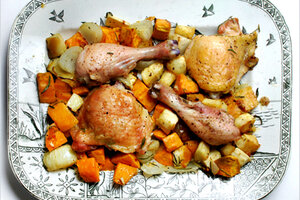 Blue Kitchen
This time of year brings a certain amount of angst for those trying to eat locally, seasonally and sustainably. Pickings are getting slim at farmers markets, especially here in the Midwest. The land is hunkering down for a long, cold winter, and summer's produce bounty is receding in the rear view mirror. So what do we eat?
To answer this question, we need to look back to a time when eating locally, seasonally and sustainably was just called eating. For most of our grandparents (and certainly our great-grandparents), if the fruits and vegetables they ate didn't come from their own gardens, they came from family farms not far from where they lived. To have produce to eat when the snows came, they would do a couple of things.
First, they would can. A lot. Mason jars full of preserved summer fruits and vegetables would line pantry and basement shelves, ready to give nourishment and a taste of warm days. For many households, this practice fell by the wayside with the coming of commercially produced canned goods. My grandmother, who had grown up on a farm, left canning behind when she headed for the bright lights of St. Louis. But Marion has vivid childhood memories of family trips to nearby farms, followed by days of her mother tending boiling pots in an un-air-conditioned kitchen – followed later still by delicious jars of fruit in the dead of winter. Canning is enjoying a resurgence these days, thanks in part to the desire to eat locally year 'round.
And then there are root vegetables. So named because you eat the root or root tuber part of the plant, these vegetables often keep well for long periods of time, especially in cool places with steady humidity. Our great-grandparents sometimes had actual root cellars, dug into the ground below the freezing line, that stayed cool all year long. Sometimes, they were free-standing structures with sheds on top. Other times, it might be a corner of a basement (many older homes had basements with dirt floors, helping to maintain the proper humidity levels).
Even if you don't have a root cellar, root vegetables are delicious, healthy and often locally grown. Carrots, parsnips, turnips, potatoes, sweet potatoes, onions, beets and more all provide loads of flavor and nutritional value. And they deliver variety to autumn and winter meals. Add them to soups and stews. Mash a parsnip with potatoes for added sweetness and nutrition. Roast root vegetables with herbs, individually or in a mix, as a side. Or, as I did here, with chicken as a one-pan meal. The juices of the chicken temper the natural sweetness of the parsnips and sweet potatoes, giving them a nice, rich umami quality, and the onion, garlic and rosemary flavor everything.
(see recipe next page)
---